Delivering Excellence in School Lighting
Unlike many of the investments your school will make, lighting choices have the potential to impact the health, safety, productivity, and mood of your staff and students. With advances in lighting & controls technology, and scientific research to support the real health effects of lighting, you deserve the expertise of a professional whose sole focus is lighting.
Indoor & Outdoor Safety:
LDS offers over 450 lines of quality brand name lighting fixtures and controls to address the needs of every space in your facility. We also have in-house designers who will ensure your school's lighting is not only productive, but also attractive and compliant.
Energy & Maintenance Costs:
Lighting accounts for roughly 26% of a facility's energy expense. New LED lighting and state-of- the-art controls from LDS can reduce that expense dramatically. Let LDS provide you with customized estimates on your savings.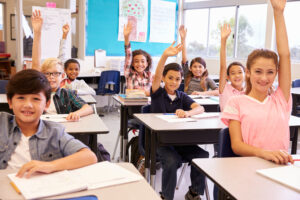 Impact on Health & Productivity:
Never before has lighting played such an important role in the physical and emotional health of our children. LDS carries Germicidal UV lighting used to sanitize air and surface spaces and dimmable white lights that support the circadian rhythms linked to emotion and attention span.
Fiscal Responsibility:
You care about providing the best possible lighting solutions for your school within your budget. LDS operates on a low overhead model that beats the big guys on design-build projects. We're also the only distributor in the state that will handle all of the rebate paperwork for you.
Lighting is all we do at LDS and we've been working with Wisconsin schools for over 16 years. Call or email us with your questions or to set up a free consultation.
Now is the Time to Start Saving!
Compare LED costs to your current lighting. How much could you save?
Stay Informed!
We make it easy for you to remain on top of industry news and trends!
Sign up now and you'll receive this timely Covid-19 report by the IES:
"Germicidal Ultraviolet (GUV) – Frequently Asked Questions"