Healthe Supplies Senior Living Center with Far-UV-C Disinfection Arch (UPDATED)
People passing through the main entry at the Canyon Trails facility in California go through a Healthe Entry gate that deactivates pathogens including SARS-CoV-2.
LED's Magazine   Maury Wright
Healthe Inc has announced installation of one of its Healthe Entry arched ultraviolet (UV) scanners at the Canyon Trails Assisted Living and Memory Care facility located in Canoga Park, CA. The system that resembles a walk-through metal detector utilizes far-UV-C-band radiation at a wavelength of 222 nm to deactivate pathogens including SARS-CoV-2. The primary purpose of the gate into the facility is sanitization of visitors' clothing and belongings.
We first began to hear a lot about the potential of far-UV-C radiation in germicidal applications about a year ago. Ushio, the sole manufacturer of 222-nm sources, revealed research that indicated the shorter-wavelength UV-C energy would not penetrate dead skin or the cornea of the eye and therefore would be safe to use for extended periods in spaces with people present. UV-C in the 250–280-nm range is known to have excellent germicidal properties, but people exposed to the radiation can suffer skin or eye damage.
Along the proverbial "abundance of caution" theme of the coronavirus pandemic, many have suggested more research was needed before people were exposed to far UV-C. We ourselves have published such advice. And a UV-C Fact vs. Fiction webcast we presented last June included such advice. Moreover, numerous industry organizations including the Illuminating Engineering Society (IES), Underwriters Laboratories (UL), the American Lighting Association (ALA), and the International Ultraviolet Association (IUVA) have issued similar advice.
It turns out research on the safety of far UV-C in an occupied space has continued. An upcoming special report in our January/February issue will reveal other commercial products coming to market. And we expect guidelines for safe deployment to emerge from regulatory sources soon.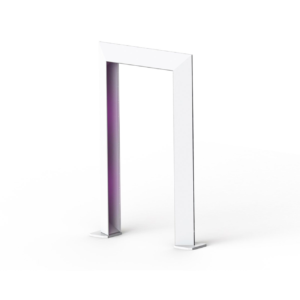 The Healthe Entry gate is designed to safely sanitize visitors' clothing and belongings with 222-nm UV-C radiation before entering the senior care facility. (Photo credit: Image courtesy of Healthe Inc.)
Still, the Healthe installation at the facility managed by Integral Senior Living (ISL) is the first we have heard of in such an application. The facility will tout it as an investment in safety for its patients. "The wellbeing of our residents, associates, and guests is our top priority. Healthe's innovative products utilize scientifically-proven methods to inactivate pathogens, and provide additional layers of sanitization beyond the significant protective measures we already have in place," said Collette Gray, president and CEO of ISL. "Our hope with installing this leading-edge protective technology is not only to provide a cleaner and safer environment, but also to give our residents, associates, and eventually guests comfort and peace of mind."
Still, it will be interesting over time to see if we can learn details relative to efficacy of such an installation. Healthe said the arch-shaped device will deactivate 90% of the viral load in 20 seconds. That would imply a person pauses under the arch to receive the full dose. And still the devices would not impact virus a person is actively shedding or virus present on something like a mobile phone located inside a bag. But as we have heard from more than one manufacturer of late, we need a multilayered approach to fight a pathogen such as SARS-CoV-2.
"We are pleased to continue our strong partnership with industry-leader Integral Senior Living to help them further increase protections for residents, staff, and guests in their communities, including the Canyon Trails Assisted Living and Memory Care community," said Healthe chief commercial officer Troy Temple. "As COVID-19 continues to negatively impact Americans, especially in hard-hit places like California, it is important that all sectors have access to the latest cutting-edge sanitization solutions. At Healthe, we are helping to meet this great healthcare challenge, with a thoughtful, layered protection approach."
Healthe, meanwhile, has been developing a broad portfolio of germicidal UV-C products for various settings. Just recently, the company announced a project in the locker room of the Miami Dolphins National Football League team. In that project, Healthe used UV-C LEDs in a ceiling-mounted system that disinfects air in a space. And air disinfection may yet prove to be the most efficient approach to fighting pathogens such as SARS-CoV-2 that can be spread through airborne transmission.
*Updated Jan. 25, 2021 12:52 PM for clarification on facility management role.